The new model home village is up and running in Daybreak. The village called Daybreak North Shore, is Daybreak's third, the first two being Founders Village and East Lake Village. There is a noticeable difference in this phase, there are far more homes in the starter home category. If you are looking for homes under $200,000, Daybreak offers far more opportunities in North Shore than in the previous phases.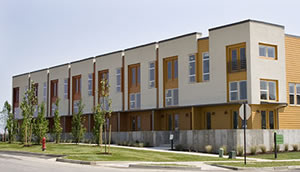 Builders Garbett Homes offer two styles of homes under $200,000, the ultra modern Bay Town Homes and Bay Lofts and Flats (coming in 2009). This increase in high-density homes seems to signal a change in policy by Kennecott, who have said that there will now be 20,000 homes in Daybreak, compared to the 13,000 when they first started. Maybe this is the result of the slowdown in the Salt Lake Real Estate market, where the low end of the market is still moving, but higher end of the market has slowed substantially.
Having said that Daybreak is building more high-density homes, Rainey who build higher-end homes have increased the size of their homes. Their largest home now weights in at more than 6,300 square feet.
Kennecott have brought in two new builders, Ivory and Garbett (although Garbett is not entirely new, they took over the building of condominiums in phase 1). There are also a few builders' names missing from North Shore. Richmond American, Bangerter, and Liberty homes are all missing. After asking around the reason these builders are missing is that they still have a large quantity of lots remaining in East Lake Village.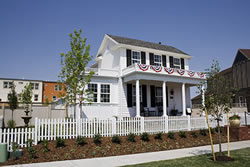 A new introduction to North Shore is the concept of neighborhood retail. A small number of lots have been set aside for small shops / boutiques. This is something that I previously found missing from Daybreak, if they truly wanted to mimic areas like the Avenues then they had to introduce neighborhood stores, which they have now done.
There are also a number of custom home lots available, starting in the $600,000 range. Not sure how successful these will be, my understanding is that they have only sold 1 custom lot so far in East Lake Village.